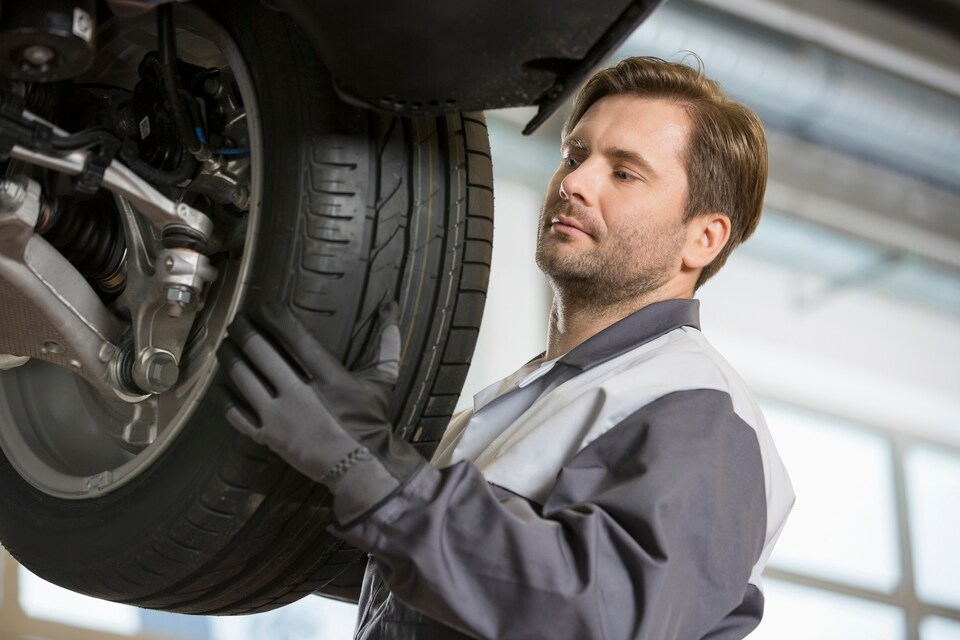 Tire Repair & Service at Frankman Motor Company
Did you know that aside from carrying a large selection of pre-owned and classic vehicles, our dealership in Sioux Falls also offers the parts and accessories that you can use to adorn them? When you need tires, you know that we've got a selection for you to work with, no matter what size you need. When you need a tire repaired, Brandon SD drivers can come to our service team and get a high level of support needed to make it through this difficult experience.
How Many Miles Should A Set Of Tires Last?
50,000 miles is a general estimate for a set of tires. That being said, many factors may shorten this timeline. Depending on where you drive, what type of roads you drive on, and how you drive, your tires can wear more quickly than most. It also depends on how well you take care of your tires. Are you doing routine tire rotations? Have you been inspecting your tires and making sure they're in good working order? Do you store your tires well when you change them seasonally? These are all ways to make your tires last for many miles.
How Long Do Tire Repairs Take?
Depending on what type of repair your tire needs, it could last anywhere from a few minutes to 30 minutes. A tire plug takes less time while a radial patch takes longer. Of course, this also depends on where the repair is located.
Can You Drive A Car With A Nail In Your Tire?
You can, but you shouldn't. Driving with a hole in your tire is dangerous because it could cause a blowout at any time. If you have a nail in your tire, driving with it still in will ruin the tire beyond a simple tire repair. Instead, you'll have to spend more money to have the tire replaced completely.
Is A Tire Plug Permanent?
No. A tire plug is meant to be a temporary fix, not a permanent solution. It is safe to drive with a tire plug in place, but only for a short amount of time. If you have a tire plug in one of your tires, make sure to have the tire replaced as soon as possible.
Don't Hesitate to Ask Us If We Can Help Repair Your Tire Today
Our service center near Harrisburg SD has the expertise that you need to get a tire replaced or repaired in a timely fashion so you can have as little disruption to your schedule as possible. If you recently ran over a nail on your way to work, we can help you get it repaired so you can continue on with your day. Did you go to start your vehicle and notice that a tire is flat? We'll help diagnose the issue and get your tire repaired to give you more time with it.
There is no restrictions when it comes to repairing your tire. If it's capable of being repaired, we can fix it. It doesn't matter if you purchased that tire or vehicle from us; we're in the business to help our customers stay on the road as safely as possible. We won't try to upsell you or get you to buy anything that your vehicle doesn't need. We'll do our best to repair that tire and then send you on your way.
To discuss your tire repair near Tea SD, you can reach out to our team today. You can also schedule your service appointment online to get closer to getting back on the road with a fixed tire.