Digital Retailing in Sioux Falls, SD
As online shopping becomes more mainstream, it's no surprise that many South Dakota dealerships are joining in by offering digital retailing to car shoppers in Sioux Falls. Frankman Motor Company is one of those dealers that advertises an accelerated car-buying experience for its customers near Tea, SD. Instead of relying on trips to our Sioux Falls establishment and facing a stack of paperwork, you can save time by completing most of the steps remotely. Whether you're at home, work, or a coffeehouse, digital retailing opens a new outlet of shopper convenience.
See how to do it below, and learn more about our expansive used and classic cars for sale.
Select My Terms
These resources help you outline a financing plan that you will feel comfortable with. Configure the term lengths and financing options that you deem the most important to begin forming a financing strategy that fits your budget and aligns with what you're looking for.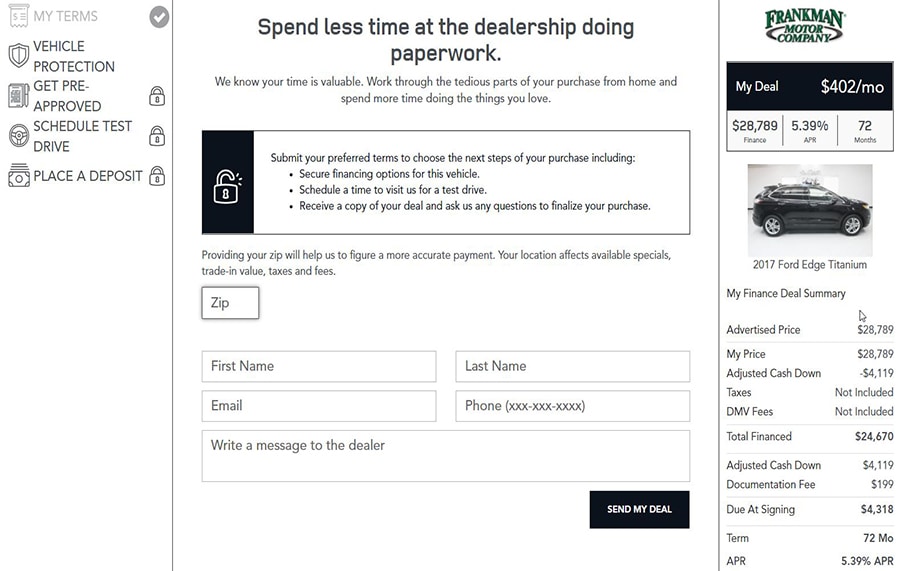 Apply for Financing
With a solid idea of your term length and what you wish to pay monthly, it's time to proceed towards the auto loan you plan on financing your vehicle with. Move through the pre-qualification process if you still have questions about your credit history, or skip ahead to a financing application that takes a matter of minutes to complete.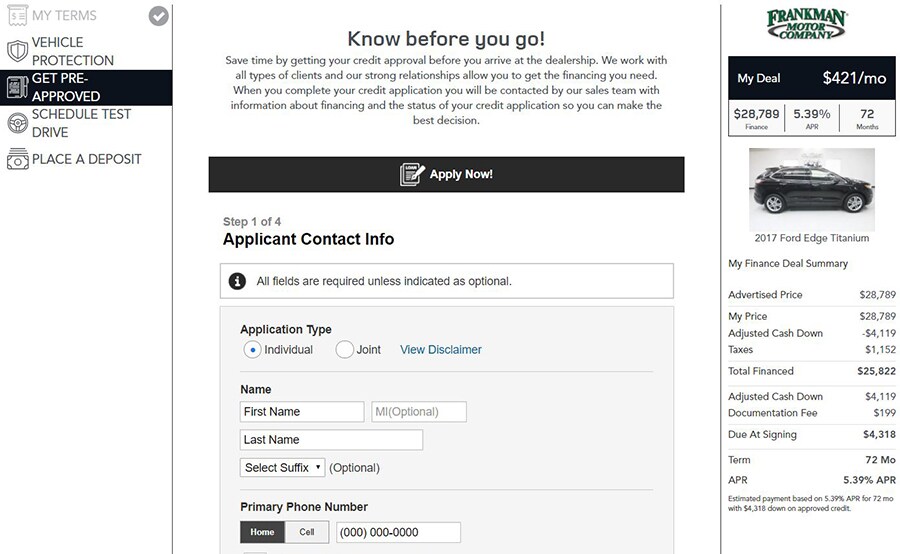 Schedule a Test Drive
Need additional insight into a prospective dream model? Arrange to spend some time behind the wheel from a relaxing position on your living room sofa. Scheduling a test drive online makes the car buying process more convenient and in line what your plans for the busy week ahead.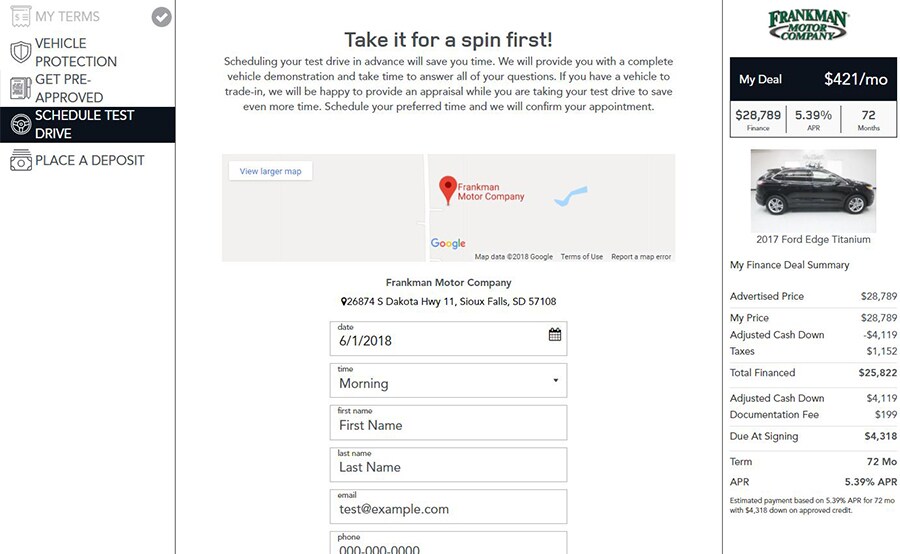 Finalize My Purchase
​After confirming how you feel about your vehicle and managing the financing end online, it's time to make your commitment final. Place a down payment or reservation on your vehicle today before stopping by our showroom to receive the keys and collect your prized automotive investment.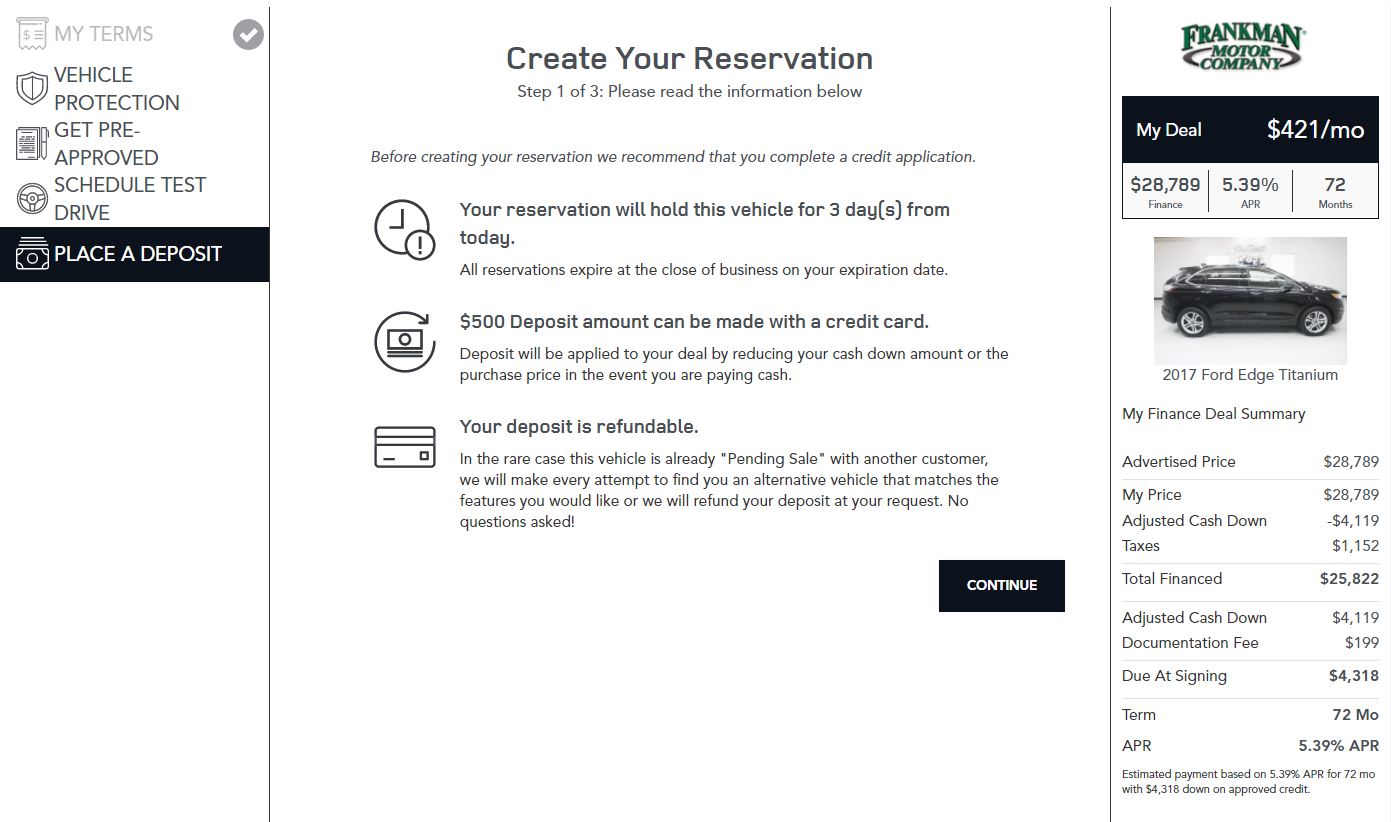 Search
* Indicates a required field
Used Cars to Buy Online at Frankman Motor Company
As the largest independent used car dealership in the five-state area, there's no make and model that we won't accept at Frankman Motor Company. From used sedans to used trucks to used SUVs, we have a cornucopia of affordable transportation options for sale in Sioux Falls, SD. You can browse the contents of our vehicle selection by price, body style, make/brand, year, features, and odometer/mileage. Here's a snapshot of the used car brands for sale near Tea, SD.
Used Chevrolet
Used Ford
Used Jeep
Used Ram
Used Toyota
Used Volkswagen
Used GMC
Used Dodge
Used Buick
Used Chrysler Used Honda
Classic Cars on Display at Your Sioux Falls Dealership
Do you have a love for classic cars? Cars like the classic 1969 Cadillac Deville coupe or the 1972 Chevrolet Corvette convertible? At Frankman Motor Company, we offer a specialty lineup of antique vehicles like these for South Dakota drivers who want a blast from the past. You'll find the 1970 Pontiac Bonneville coupe, 1979 Jeep Cherokee wagon, and 1948 Cadillac Series 62 sedan. Digital retailing also applies to collector models like these when you buy at your Sioux Falls dealer.
How Does Digital Retailing Work for Buying a Used Car?
At Frankman Motor Company, serving Brandon, SD, the only vehicles that you'll find on display are used. Many South Dakota drivers come to us because of a strict spending limit. By selling pre-owned cars, we can cater to local drivers with any credit score or budget. After sifting through the contents of our used car, truck, and SUV inventory, you can begin the car-buying process through our digital retailing platform.
How does digital retailing work for the average Frankman Motor Company customer? It's simple. When you find the used car that you want to buy, find the "Accelerate My Deal" button on the right-hand side of its Vehicle Details Page, and follow the steps. This innovative process outlines all the standard steps that go into buying a used car. From customizing car payments to applying for an auto loan, you can end up saving hours at your Sioux Falls dealership by completing these tasks beforehand.
Breaking Down the Steps of the Accelerate Your Deal Tool
If you're ready to digitize the car-buying process for your used Chevy Equinox or used Ford Edge, you're ready to Accelerate Your Deal on your laptop, tablet, or smartphone - whichever device you prefer. Once you select the used Ford F-150 or used Chevy Malibu that you want to finance at Frankman Motor Company, you'll work through the following car-buying steps:
Calculate Your Monthly Payments
Unlock the Value of Your Trade-in
Apply for Used Car Financing
After completing these three digital retailing tasks, all that's left will be commuting to your Sioux Falls dealership and reviewing the details of your deal with the experts at Frankman Motor Company, serving Harrisburg, SD.
Ready to Buy Your Next Car Online? Get Started at Home Today
Accelerate Your Deal at Frankman Motor Company makes buying your used Chevy Silverado 1500 or used Ford Explorer faster, easier, and more rewarding. If you run into any speedbumps during the process, remember that your Sioux Falls experts are a phone call or message away. Start digital retailing when you find the used car, truck, or SUV that you'd like to own and drive between the South Dakota cities of Tea, Harrisburg, Brandon, and Sioux Falls.