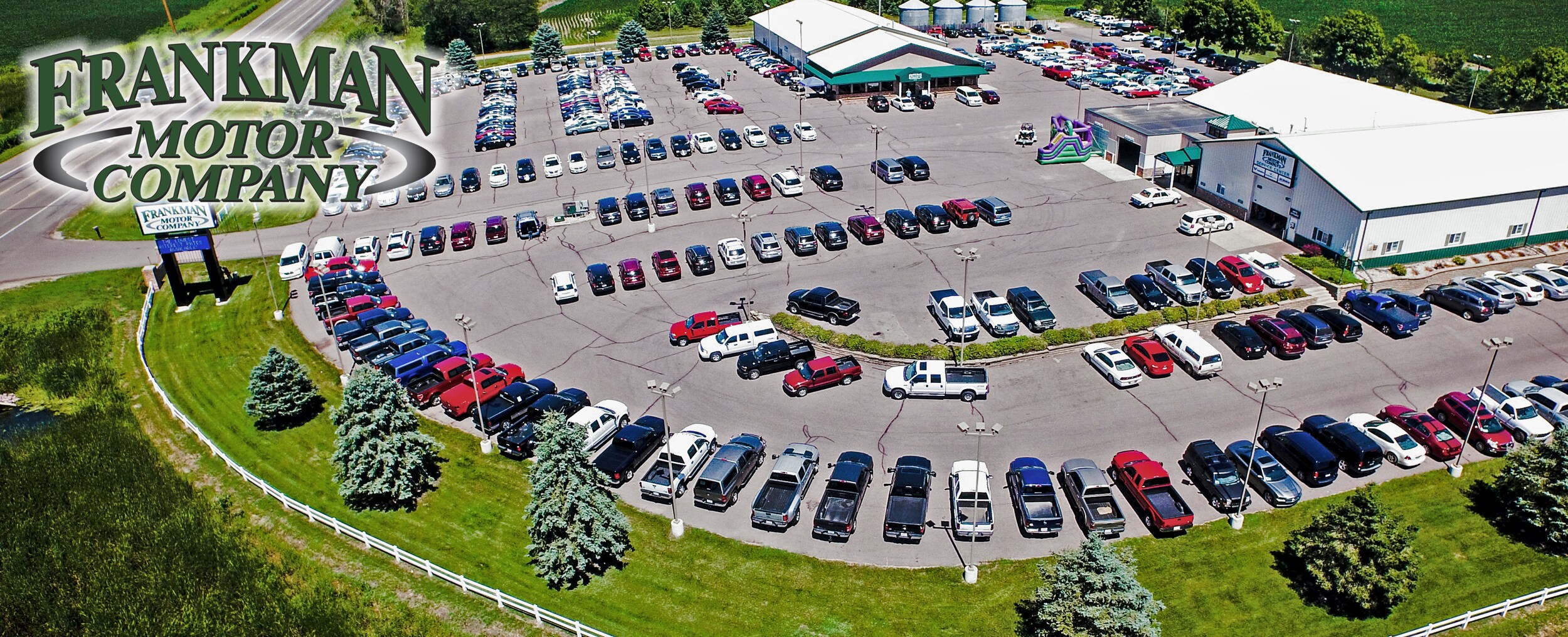 Discover What Makes Our Car Dealership Special
At Frankman Motor Company, we're proud to be a part of the Sioux Falls community. We're happy to be right here in the Best Little City in America, and as a used car dealership, we do our part to make sure those who are seeking out quality vehicle options can find them. With a large selection of different vehicles that have a wide range of attributes, our friendly team is here to provide you with the highest levels of customer service, while also offering the likes of automotive repair that you can count on right here in The Heart of America!
Used Car Inventory
Our used lineup houses plenty of options spread across different brands like Chevrolet, Jeep, GMC, and Toyota. There's lots of featured used cars and specials as well, and they all are different be it model year, mileage, vehicle type and more. With wide range of prices, you can find the ideal fit, including vehicles for Sioux Falls drivers that are under $10,000. Any used car is going to be enticing not only of the price point, but you're still finding quality and a used car, truck or SUV you can count on to get you where you need to be in the city and enjoy our area to the fullest from a trip to the Empire Mall to having summer fun at the Sioux Empire Fair.
Classic Car Inventory
Along with the many used car options that are here, we also have a stock of classic cars at Frankman Motor Company. We have classic Ford and Chevrolet options, including the likes of classic Camaros, a Chevrolet Eagle, or a Cadillac Deville. We also can help Sioux Falls drivers locate and find classic cars if we don't have them here in our showroom.
Used Car Service
To help drivers who purchase a used car from our dealership in Sioux Falls, we have a team of highly-trained and skilled service technicians who can provide routine maintenance like oil changes, tire rotations, wheel alignments and inspections, to complex repairs and diagnosing vehicle issues. We also can provide classic car repair and maintenance as we're well-versed in handling the classic car parts and how they are uniquely serviced. With routine auto repair from us, you're going to maximize your used car's life span and enjoy plenty of quality driving in Sioux Falls and beyond.
When you've made your decision on which used car you'd like, we're here to help you find a payment plan for it, as we offer plenty of financing options. We'll provide rates from local and national lenders to give you choices, and ensure the process is clear and transparent so you can find the financing plan and car loan that works best for you.
Come Find Your Next Used Car at Frankman Motor Company in Sioux Falls Today
If you're ready to get started, we're ready to help. Contact us here to arrange a time to meet and discuss used cars that grab your attention and we can provide more information and set up test drives at your convenience!
Sioux Falls, SD to Frankman Motor Company Directions
Located at 26874 S. Dakota Highway 11, we're accessible via that, and stationed near 69th street headed eastbound as we're just outside the city center and near Harmodon Park. If you plug us into your navigation app, we're sure you'll be able to find us with ease right here in Sioux Falls.
Get Directions
* Indicates a required field
Make an Inquiry
* Indicates a required field
Hours
Monday

8:30AM - 6:00PM

Tuesday

8:30AM - 6:00PM

Wednesday

8:30AM - 6:00PM

Thursday

8:30AM - 6:00PM

Friday

8:30AM - 6:00PM

Saturday

8:30AM - 6:00PM

Sunday

Closed