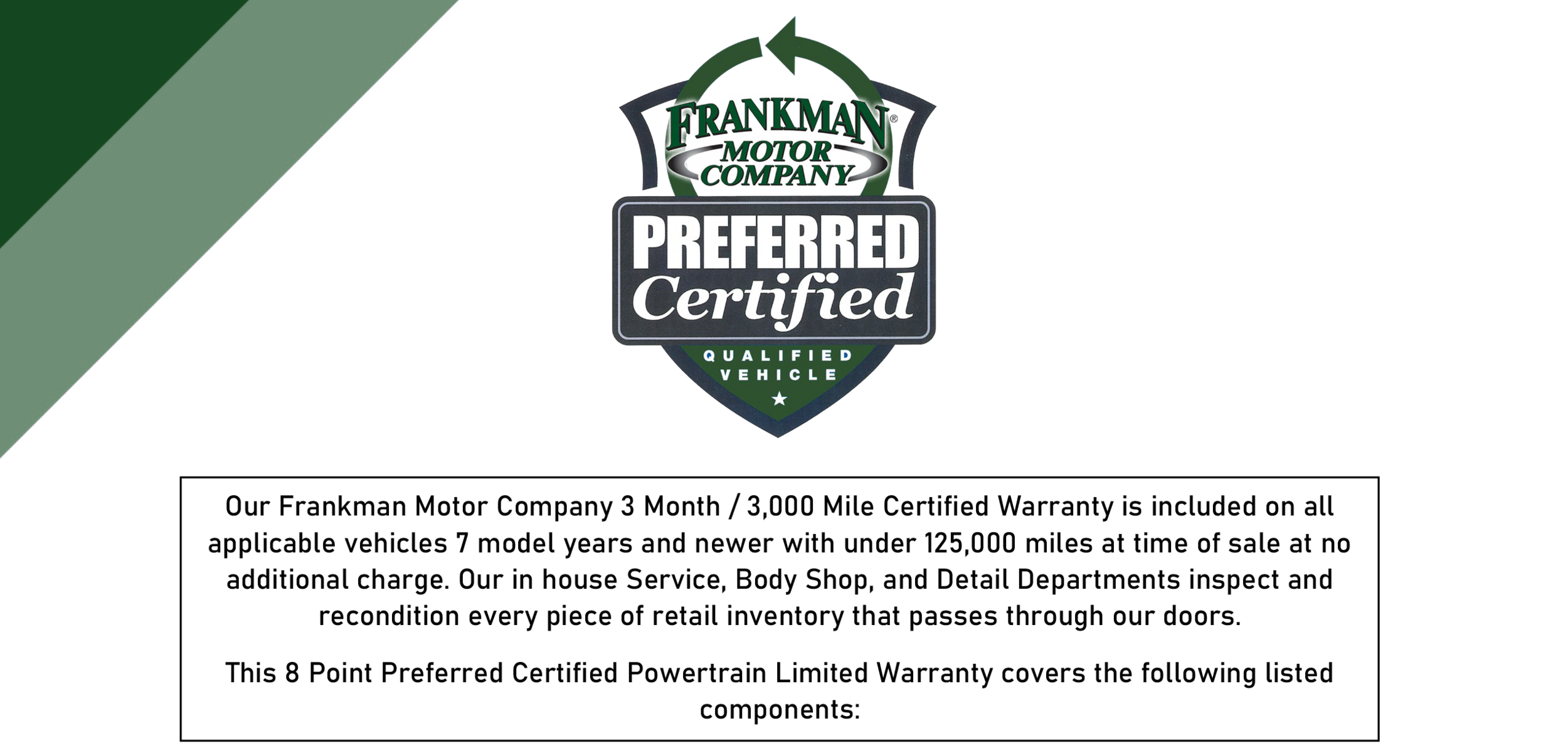 Shopping the Frankman Preferred Certified Inventory
At Frankman Motor Company in Sioux Falls, we try to make used car shopping easier for every customer. To do that, we offer reliability, protection, and excellent deals. You can find all of that and more in our Frankman Preferred Certified inventory.
Qualifications
For a vehicle to join this certified lineup, it must meet a list of criteria. This helps us ensure that you are getting a used car or SUV that will run for miles to come. The first thing we look at is how old the model is. If it is over 7-years old, it cannot join our certified inventory near Brandon, SD.
Our professionals also measure these vehicles on their mileage. We set a limit of 125,000-miles so that you are not getting a purchase you can't trust. Both these qualifications come together to make an excellent used option for any modern driver.
Warranty and Coverage
One of the many perks of these Frankman Preferred Certified vehicles is the comprehensive warranty. This coverage lasts for 3 months or 3,000-miles. That means you can count on us to take care of you if anything goes wrong.
This is an 8 Point Preferred Certified Powertrain Limited Warranty. That means it covers 8 essential parts of your car or SUV. The engine, transmission, drive axles, brake system, steering, electrical, suspension, and A/C heating system are all a part of this excellent coverage.
A Peace of Mind
We have a team of technicians who are extremely good at what they do. With years of experience and a commitment to service, you can be sure you are getting the right fix for any maintenance-related need. This is also the team that qualifies a model for our certified lineup near Harrisburg, SD.
Our technicians comb through every car, truck, or SUV before it hits any inventory. With the excellent coverage and our technicians' approval, the Frankman Preferred Certified options are going to bring a peace of mind to the table that is hard to beat. Perks like these are going to make for a successful used purchase.
Certified Models You Could Find Here
We try to pack our certified inventory with models from many popular brands. This helps us serve any customers that walk through our door. Whether you are looking for a luxurious daily driver or a confident work truck in Tea, SD, we have the certified models for you. Here is just the start of what you could find in this exciting inventory.
Certified Cars
Up first, we have our certified used cars that will make any drive to work more enjoyable. You can find luxury options in this lineup, including a used Audi A3. We also have models focused on reliability. When you choose a used Hyundai Sonata from our certified lineup, you are going to get a car that will last a lifetime. The inherent quality of this brand is what keeps customers coming back.
Certified SUVs
For those that need a bit more space in Hartford, SD, we suggest a certified SUV. A used Chevy Equinox will add both functionality and efficiency to your day. This is a combination that is hard to find with other pre-owned SUVs. There are other beloved options in this pre-owned lineup, including used Toyota and Dodge SUVs.
Certified Trucks
Finally, we have our certified used trucks. A used Ford F-150 is going to bring a versatile range of benefits to the table. From the robust engine options to the towing capacities, an F-150 will not disappoint. There are also used Ram trucks in this lineup for those that need a capable model for their next adventure.
Find Your Frankman Preferred Certified Vehicle Today
Regardless of the certified vehicle you choose, you are going to get a purchase that you'll love for miles to come. Our professionals are here and ready to show you through this lineup. Visit today and take a Frankman Preferred Certified vehicle for a test drive.